Abbey Bradley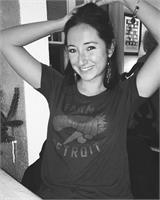 My practice of yoga began 7 years ago at yoga shelter Grosse Pointe. Following a bad break up and an alternative to dance, I began practicing yoga everyday. Although I didn't know exactly why then, I knew after practice I felt better physically, emotionally, and spiritually. My practice has continued to evolve from then and I consistently find different meanings for my physical practice. The practice of yoga has provided a space for me to create greater awareness within, calm anxious feelings, gain better self discipline and realize both my internal and external strength. The power of yoga is a gift to be shared and I feel so fortunate to share this gift as an instructor.
Abbey Bradley instructs the following:
Fusion is heated, a blend of flowing and holding. Create internal heat with sun salutations then the class shifts to a slower pace, holding postures. Recommended for students with some yoga experience.




Fusion is a class that has been created for Vinyasa and Slow Flow to come together. This class will allow you to get the Vinyasa work out if you choose or the slow flow stretch it that's what you need.