Britta Peters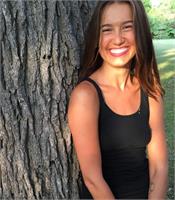 For me, like so many others, yoga began as a physical workout that brought me sweat, muscle tone, and the endorphins I was chasing after. But slowly, yoga shifted from solely a physical practice to the place where I could finally quiet my mind. A place where peace, temporary as it may be, could be touched every time I hit the mat.
Aside from yoga, I facilitate Dance Meditation Technique and work as a health coach. Both influence and expand my practice and style of teaching and continue to fuel my desire to help others help themselves into the best life they can live.
Sharing a space where others can find a bit of that peace and bloom into their most bountiful, beautiful self is an incredible blessing and privilege. Hope to see you in class soon!
Britta Peters instructs the following:
Slow Flow is a moderately heated class. Postures are held for 5-10 breaths. Challenging and accessible for all levels.




Hot Vinyasa Flow is a hot, dynamic practice integrating breath with movement in a continuous flow. In this exhilarating and physically stimulating cardiovascular practice the teacher will introduce a series of poses interlinked to create a progressive flow that culminates with students moving through each flow independently, without the guidance of the teacher. Recommended for those looking to experience our hottest, most physically rigorous class.