Victoria Birk Hill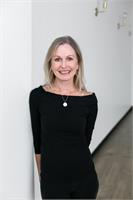 I found my way to yoga because I was struggling with really bad anxiety and was desperate to find relief. Yoga helped. And the more I dug in and did the work, the more I healed. Yoga is so much more than a physical practice. It helps you spiritually and mentally. And it helps all of us find the best expression of ourselves.
I spent years studying many different yoga disciplines – Iyengar, Bikram, Ashtanga, Anusara – in Boston, Miami and New York, but it wasn't until I walked into the Yoga Shelter that I felt at home. There is such a positive and good energy about this place. It attracts and comforts those who walk through its doors. It is a safe space for all. And it teaches us life skills that we can apply in all that we encounter.
Teaching yoga has become a natural evolution for me - a way to give back and help guide others as they work through their own self-development. And it holds me accountable to be my best self in my own life journey.
I hope to share a class with all of you soon. The light in me honors the beautiful light in all of you.
Namaste!
Victoria
Victoria Birk Hill instructs the following:
Slow Flow is a moderately heated class. Postures are held for 5-10 breaths. Challenging and accessible for all levels.




Gentle Flow is unheated, designed for those looking for a gentle and restorative practice - appropriate for everyone.




This class is designed for those looking for that gentle, restorative and serene practice. Yin is an exploratory way to dig into connective tissue through long held poses. Yin provides an emotional release as well and is a class suitable for everyone.