Stephanie Selvaggio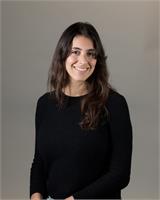 In 2007 I was introduced to yoga & a door opened. In 2009, I trained to become a teacher at Yoga Shelter & life began. While teaching, I trained to be a life & wellness coach. Between yoga & coaching, I've helped 100's of clients create healthy routines & habits to promote better body function, weight-loss, better sleep, less stress, positive outlook & overall well-being so they could manifest their dream lives! In class I'll encourage you to listen to your body, challenge yourself when applicable & most importantly, show up for YOU. When we show up for ourselves, we unlock our potential for high vibration living! Whether you are a beginner or seasoned yogi, I offer modifications for each participant to get what they need. Hope to see you soon! Imagine the possibilities.
Stephanie Selvaggio instructs the following:
Fusion is a class that has been created for Vinyasa and Slow Flow to come together. This class will allow you to get the Vinyasa work out if you choose or the slow flow stretch it that's what you need.




Slow Flow is a moderately heated class. Postures are held for 5-10 breaths. Challenging and accessible for all levels.