Chris Emmerson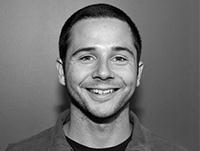 Hey everyone, thanks for checking out the Shelter! This life has been a crazy ride so far. For many years I was searching for something but was looking in all the wrong places! I was definitely heading the wrong way and was very self destructive and confused. Over four years ago I was injured in a car accident that left me with a broken back, sternum and almost thirty stitches in my face. I was in a lot of physical and emotional pain and knew something had to change…ME! After trying many different types of therapy and still having acute pain some friends suggested that I try yoga and it changed my life! The physical practice has been really beneficial for my overall well-being but the philosophy has created the biggest shift in my life. Looking inward for happiness and peace, taking full responsibility for who I am and self reflection are some of my daily goals and are the foundation of the Yoga Shelter. Realizing that there is no one else to blame for who I am is incredibly liberating because it means that I have the power to change. Although I have to do this hard work my self I also know I'm not alone and that is what Sanga (community) Yoga is all about. I have had the chance to meet some really incredible, inspiring people here and there is a very welcoming vibe. Through this practice of yoga I hope to one day live a selfless life and truly be of service. So please come check out one of the many fine teachers at the Yoga Shelter and join the fam!
Chris Emmerson instructs the following:
Slow Flow is a moderately heated class. Postures are held for 5-10 breaths. Challenging and accessible for all levels.




Fusion is a class that has been created for Vinyasa and Slow Flow to come together. This class will allow you to get the Vinyasa work out if you choose or the slow flow stretch it that's what you need.




Yin yoga is a calm practice that involves holding non-muscular poses for a longer period of time, seated or reclined. Yin creates a wider range of motion by accessing connective tissue. Accessible for all levels of practice and abilities.




Take your yoga practice off the mat and join Yoga Shelter Grosse Pointe and Chris Emmerson for a weekly study group.

Seekers of all philosophies and religions are welcome.




Hot Vinyasa Flow is a hot, dynamic practice integrating breath with movement in a continuous flow. In this exhilarating and physically stimulating cardiovascular practice the teacher will introduce a series of poses interlinked to create a progressive flow that culminates with students moving through each flow independently, without the guidance of the teacher. Recommended for those looking to experience our hottest, most physically rigorous class.




Yin yoga is a quiet practice which targets ligaments and fascia within the body. Each posture during a Yin yoga class is held for long periods of time to encourage the slow and safe opening of connective tissues, leaving the student with an overall feeling of lightness, spaciousness and peace.