Deep House Vinyasa
This class is taught by: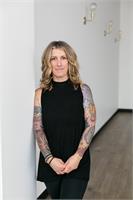 Our life experiences and traumas can sometimes create sharp edges, but through a mindful practice, yoga has given me the clarity to see the softness and gentle curves of life.
I began my journey into yoga looking for a challenging workout. I have always been physically and emotionally active. I was stressed out and full of internal conflicts and apprehension. I operated under the assumption that if I wasn't beating my body up then it wasn't worth it. As my yoga practice evolved, I have learned to love my body and take care of myself through compassion and mindfulness…rather than challenging my ego. I believe that yoga can be accessible to anyone when they open their heart and begin where they are, not where they think they should be. One must cast aside judgment about how it's "supposed" to look and honor how it feels in their body.
Much like my mat supports my physical practice, I have found that the love and support of the Yoga Shelter Community is irreplaceable. Yoga is a personal practice to connect with the highest version of yourself, but you are never alone!
Deep House Vinyasa is a movement which combines Vinyasa Yoga with a live DJ -Adam Westing- and is based around building strong healthy communities and celebrating health.